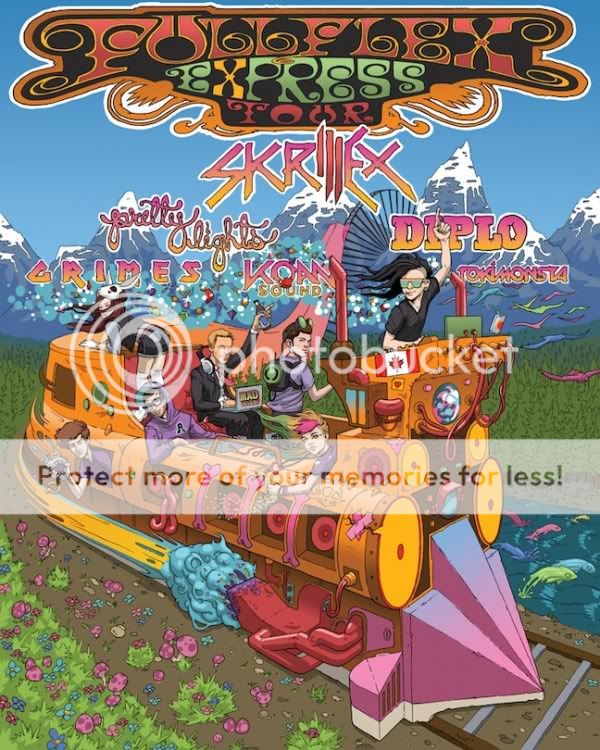 If you need an example of how electronic music has exploded in the last few years, look no further than Skrillex's Full Flex Express Tour — inspired by the 1970 Canadian train tour by Janis Joplin, The Grateful Dead, The Band and others. 
    
The last time Grammy-winning wunderkind Sonny Moore, aka Skrillex, was in town, it was February 2011 and he was just building momentum as an artist (he played Republic).
    
His main partner in crime for this train tour, Diplo, has played Winnipeg before, too. Way back in 2005, he opened two dates at Jazz Fest for turntablist/producer RJD2 and Ninja Tune's Bonobo at the Pyramid Cabaret. It was during this time that he met (and soon began dating) M.I.A., eventually working with the Sri Lankan born-MC on a mix tape, Piracy Funds Terrorism Vol. 1 and tracks that would become huge international hits and propel both artists into the mainstream.
  
Fast-forward a few years and Skrillex and Diplo are two of the biggest electronic stars in the world, with the former having become the poster boy for dubstep and the latter for post-rave electro. Now, they're taking a page from the last days of the hippie movement, trying to create their own summer of love in 2012. (The Full Flex Express Tour also features up-and-comers Grimes, Tokimonsta and Pretty Lights.)
    
"I just want to build a music community. That's the one thing that really gets me up in the morning," Skrillex explained in an interview with QMI. "You have so much going on with the music business and industry that compromises what art is. I just love the integrity of people getting together because they want to get together — without this bottom line and without trying to be as big as you can be just for the sake of it, or trying to monopolize everything. That's what destroys art and destroys movements. But it doesn't have to be that way. I want to get together with independent artists, with people that are free thinkers and forward thinkers, people that can raise their own flags and declare their own independence but still keep community."
    
A few years ago, the idea of a concert tour like this — or that Skrillex and Diplo would have residencies in Las Vegas — would have seemed impossible. The same thing could be said about Diplo's sponsorship deal with Blackberry — which, combined with never-ending tours, high-profile festival appearances and an influential slot on BBC radio, has helped make Diplo, aka Thomas Wesley Pentz, one of the most recognizable electronic artists in the world.
    
Still, Diplo's success is nothing compared to the meteoric rise to fame that Skrillex has experienced. Before he was churning out rapid-fire, neck-snapping beats, he was the lead singer in post-hardcore group, From First to Last. After two albums and moderate success, he quit the band to focus on the bass-heavy, genre-busting electronic tracks he had been experimenting with. Like many struggling electronic artists, he took whatever gigs he could get, building a following across the U.S. via word-of-mouth just as North America's dance culture was shifting from the underground to the mainstream.
    
Skrillex may have a couple Grammys under his belt, but it's the strength of his live show and the fact that he has nearly 1.5 million Twitter followers, over seven million fans on Facebook and millions of YouTube views that has made him the undisputed king of electronic music in North America right now. (And his live show is his bread and butter: having done over 150 shows in 16 countries in the last 12 months, Forbes reports Skrillex earned over $15 million last year.)
    
His visceral live show embraces the chaotic immediacy of punk, the laser-like precision of machine-generated sounds and the shock-and-awe impact of modern bass music, all smashed together into an ADD-inducing concoction that leaves no room for subtlety. 
    
Heavily indebted to '90s rave culture (even if he isn't old enough to have gone to the parties) and artists such as Aphex Twin and The Prodigy, the 24-year-old producer understands how to whip a crowd into a frenzy. More importantly, he understands it's about the experience, not the bottom line.
    
"I'm making no money on this tour," Skrillex claimed in the QMI interview. "I'm losing money to do it. I'm doing it because it's just a fun thing to do. I saw the Festival Express movie, and there was also the (Railroad Revival Tour with Edward Sharpe, Mumford & Sons and others) last year. Both of those inspired us to do something similar. And if you want to do that — if you want the right artists and the right vibe and the right time and the right experience, this is what it takes. And this is what it costs.
    
"But it's not about money. You've got to look at the bigger picture. It's about doing something fun and creating something that's cool and giving people something to look forward to and making people happy."
FULL FLEX EXPRESS TOUR
July 18, Shaw Park
• • •
Three Reasons to Get There Early

1. Grimes: There probably isn't a hotter Canadian act right now than Montreal's Grimes. Between being hand-selected by techno icon Richie Hawtin to play his new night, Enter, in Ibiza, buzzed-about performances at festivals such as SXSW, showing up in Spin and getting interviewed by Nardwuar, Claire Boucher's melting-pot approach to electronic music still has one foot in the underground while the mainstream starts to warm up to her.

2. Pretty Lights: Well known on the North American festival circuit, Derek Smith's glitchy, sample-heavy, electro hip hop soul as Pretty Lights already has a built-in audience in Winnipeg of people who gravitate to these type of beats. While he hasn't played here before, his genre-bending style should be well suited to blowing minds at Shaw Park.

 3. It's going to be awesome: This will likely be one of the largest electronic music events ever held in the province. The gates open at 3 p.m., and if you like people watching, super-sized bass and wonky synths, you don't want to miss KOAN Sound and Tokimonsta, performing from what Skrillex has described as "art cars, equipped with Funktion-One sound systems."